While the kitchen is generally considered to be the focal point of the American home, the bathroom is #1 in terms of renovations and the budgets they command. The National Association of Home Builders will consistently report on the primacy of the bathroom in remodeling in the many surveys that they conduct. So here are four tips for renovating the luxury bath in 2014
Tips for Renovating Your Bathroom
Get professional guidance: Selecting the professionals that will do your work is obviously very important. The internet provides a wealth of information. Two very reputable professional organizations are NARI and the aforementioned NAHB. Naturally, the suddenly famous  Angie's List has a strong presence for peer-to-peer reviews. In the end, nothing is better for professional selection than great referrals from happy clients.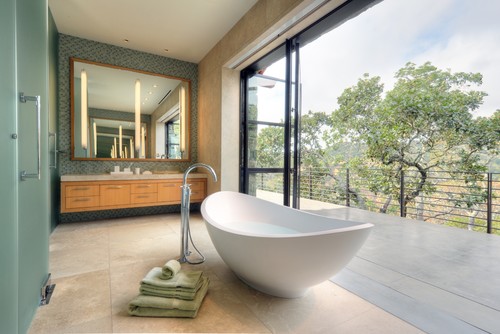 Be ready to adjust your life: In most cases, a family will continue to live in the home as a bath renovation is underway. Workers will be all over the place and privacy may seem to be compromised. Your basic bath functions may need some alternative plans. Expect noise and real dirt. Nerves will be on end. This all seems obvious. However, time and time again we have seen clients that seemed surprised at what was finally going on in the remodel.
Understand the budget process: How a bathroom remodel is priced and produced is not that simple for everyone to understand. Take some time to "get" the basics. A "schedule of values" will tell you what each item of labor and materials is costing you. Learn this as best you can. An easy example is an under-mounted sink replacing an over-mounted sink. Knowing both the labor and material cost for the original will allow you properly value the potential upcharge for the new item. Sounds simple! Sometimes not so much, so pay attention!
Get dirty: Remember that this is your life, your home, and your money.  Those big scary construction types doing the work in your home are being funded by you! If something is bothering you, ask questions. Be proactive and courageous and this process will work out to your satisfaction.
Hours and hours of time and 10,000 more words could be devoted to this topic. At the end of the proverbial day, this is a blog post and not a reference book.  So stop into one of the Country Floors showrooms for much more than just four tips for renovating the luxury bath in 2014.