When it comes to interior design trends, green tiles are certainly one of the most popular colors today. We're happy to report that warm, natural tones are on the rise, and what better way to embrace the return to nature with a green tile design.
Although green ceramic tiles are what instantly come to mind when people think about colorful tiles, there are actually a wide array of green tile types available, including marble, glass, and porcelain. 100% natural green marble tiles are one of our personal favorites due to their alluring organic beauty.
Read on to discover our top 25 green tile design ideas with images and links today.
1. Forest Green Tile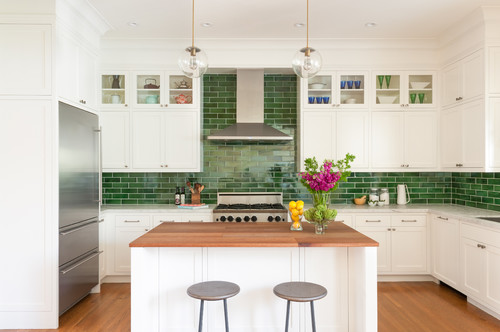 Photo by Nystrom Design – Look for kitchen pictures
This forest green tile evokes the richness of natural mossy forests. Notice how the green backsplash tile serves as the centerpiece of the kitchen without overwhelming the space.
2. Emerald Green Zellige Tile
One of the most popular trends in recent years, zellige tiles are a traditional type of Moroccan tile known for their gorgeous handmade glossy finish. Check out this emerald green zellige tile in the picture above.
3. Pastel Green Hexagon Tile
This pastel green tile comes in a stylish hexagon shape that's perfect for a green bathroom tile.
4. Sage Green Bathroom Tile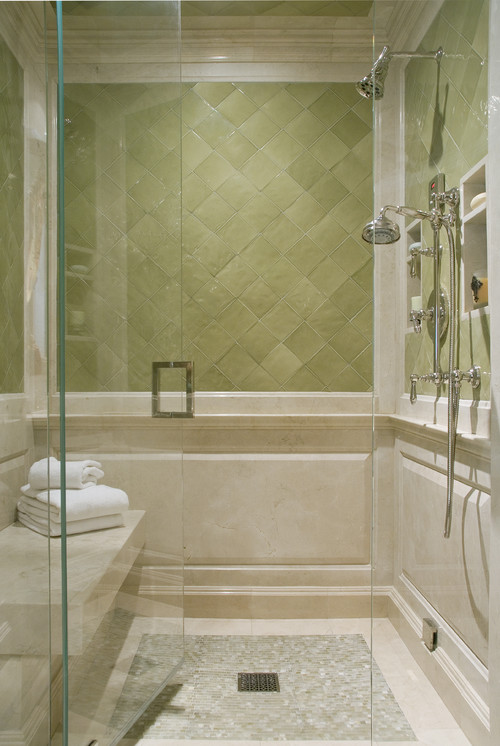 Photo by KellyBaron – More bathroom ideas
The pastel sage green tile instantly adds an element of charm to the bathroom in the image above. Pair it with off-white eggshell tones for a harmonious look
5. Green Glass Tile
This glass light green mosaic tile has a subtle touch of blue that creates a gorgeous sea green color. The perfect green shower tile, we recommend installing it on shower walls or bathroom vanity backsplashes.
6. Chevron Green Ceramic Tile
This chevron green ceramic tile is a great way of adding a stylish yet understated touch to your interior. In the image above, alternative white and green chevron tiles are used to create a playfully asymmetrical design.
7. Turquoise Tile
It may be controversial to add this glossy ceramic turquoise tile to our list of best green tiles, but we love turquoise for its marriage between blue and green. Create a green tile bathroom with this vibrant tile or install it anywhere as a green wall tile.
8. Mint Green Tile
Chic and tranquil, this glossy ceramic pastel mint green tile instantly brightens up a space. It's perfect for green bathroom walls and green kitchen tile design ideas.
9. Light Green Subway Tile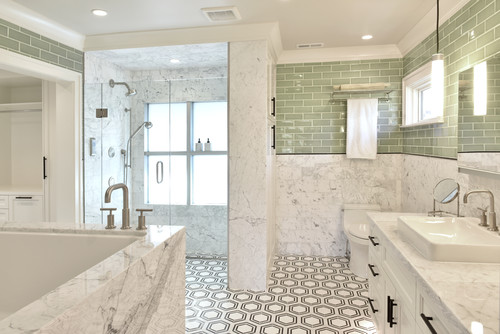 Photo by Crose & Lemke Construction – More bathroom ideas
You certainly can't go wrong with a light green subway tile design. Versatile and minimalist, green subway tiles offer a country-chic charm that's difficult to replicate.
10. Geometric Green Tile
In the image above, alternating shades of diamond geometric green tiles and white tiles are used to create a stunning optical illusion that looks incredible in bathrooms.
11. Green Mosaic Tile
If you're searching for a mosaic tile that will make a statement, look no further than this elegant marble green mosaic tile. Expertly crafted from natural stone, it's ideal for an accent wall or backsplash.
12. Green Floor Tile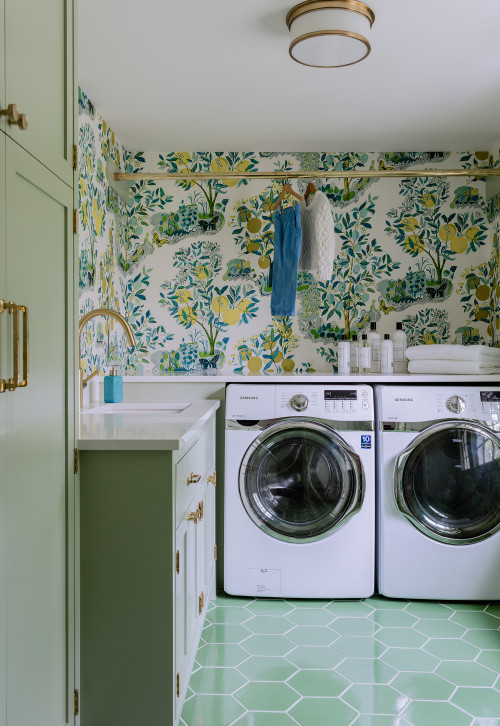 Photo by MANDARINA STUDIO interior design – Browse laundry room ideas
The vibrant hue of this green hexgaon tile matches seamlessly with the furniture and wallpaper in this room, creating a one-of-a-kind green room look. It encapsulates style and artistry.
13. Aquamarine Green Ceramic Tile
The pleasing light tone of this aquamarine green ceramic tile is the perfect fit for modern interiors due to its sleek, refined finish.
14. Green Porcelain Tile
Not only is this green porcelain tile absolutely stunning, but it's practical too. Durable and hardwearing, it works well as either a green wall tile or a green floor tile and can be installed in wet areas as well.
15. Modern Green Tile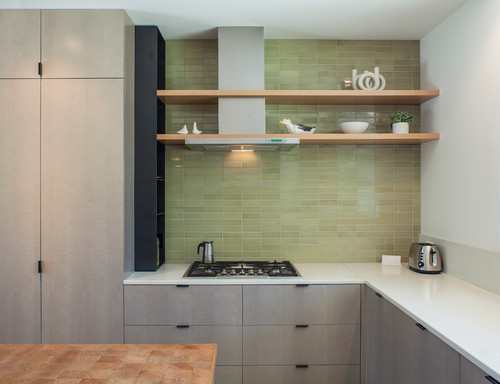 Photo by Lyons Hunter Williams: Architecture – Search kitchen pictures
To those seeking an understated green subway tile, fall in love with the understated and gentle hues of this modern green tile. Notice how it pairs seamlessly with modern kitchen appliances.
16. Green Picket Tile
The soothing tones of our seafoam ceramic tiles are always a favorite among customers. This seafoam green picket tile is a great option for a green tile bathroom and green tile shower.
17. Dark Green Tile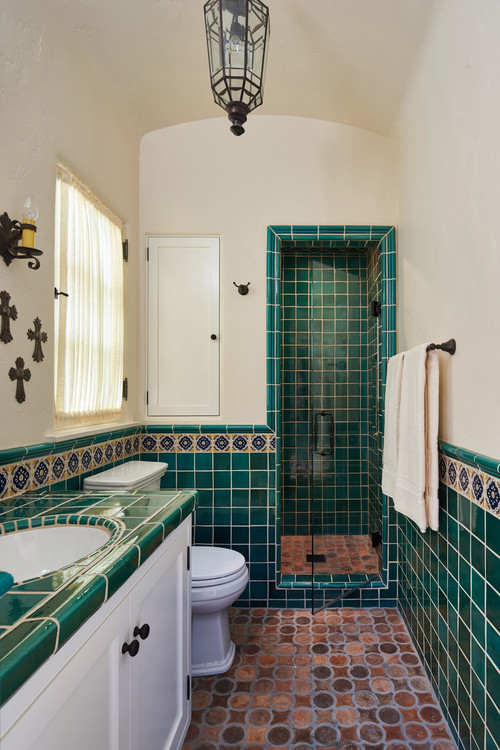 Photo by Rollins Andrew Interiors – More bathroom photos
Since Spanish tiles are a timeless design choice that's become popular again in recent years, why not try a Spanish dark green tile? The square shape and rich emerald hues of this tile will create a classic rustic atmosphere in any home.
18. Green Penny Tiles
The alluringly subtle shades of green and amber in this marble green penny tile are simply gorgeous. Install it as a statement green kitchen tile or a green bathroom tile.
19.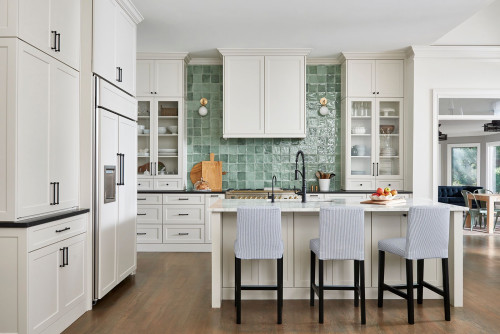 Photo by B Interiors – Look for kitchen pictures
The soft muted tones of this square green ceramic tile look just like zellige tiles. Notice how it ties in beautifully with the white cabinetry and hardwood floors.
20. Green Marble Mosaic Tile
Let the natural beauty of this green marble mosaic tile shine with an elegant rhomboid mosaic pattern. Although this tile might have more understated tones than the other ceramic or porcelain tiles on our list, it is completely made by nature.
21. Mix-and-Match Green Tile Backsplash
One of the best ways to add some character to your kitchen is to create a unique and personalized backsplash. Try using different tiles to create a colorful green tile backsplash with this elongated green hexagon tile.
22. Green Marble Tile
If you love a natural look, what better way to embrace it than to try this gorgeous green marble tile? In the image above, Calacatta green marble tile floors are complimented by our range of fluted green marble tile and ponte green marble mosaic tile.
23. Light Green Zellige Tile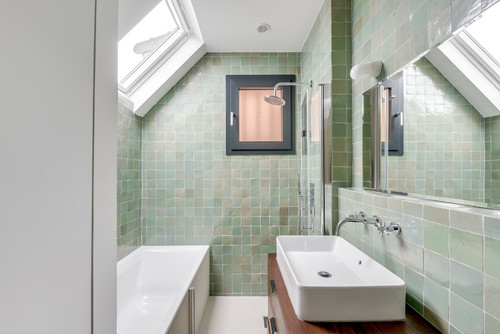 Photo by GARY CORP Rénovation – Search bathroom pictures
Transform your space into a Mediterranean getaway with a handmade light green zellige tile from Morocco. If you're seeking something more vibrant, check out our mossy green zellige tile as well.
24. Muted Green Ceramic Tile
For something more muted, our square green ceramic tile fits the bill with its gentle pastel tones and glossy finish.
+1: Emerald Green Tile
We left one of our personal favorites for last. This saturated emerald green tile speaks for itself. Install it in your bathroom for a colorful look or in your kitchen as a green kitchen backsplash tile. Either way, you can't go wrong with this emerald green subway tile.
Shop Green Tile Online
Shop Country Floor's entire range of green tiles made from marble, ceramic, porcelain and more online today.