The combination of black kitchen backsplashes with white cabinets is a match made in heaven. Bold and stylish, they are a strikingly modern combination with the ultimate contrast. Not only are they an innovative way of adding dimension to your kitchen, but they also add a compelling design element. Moreover, they pair with almost any color and design style imaginable, meaning the choice is all yours. Black tiles are the perfect way of updating your kitchen with a contemporary look.
Read on to discover our top white cabinet and black backsplash kitchen ideas:
1. Black Square Backsplash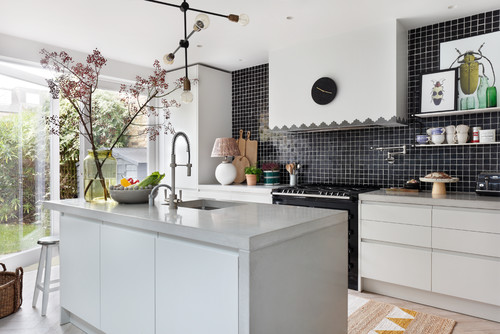 Photo by Intervari – More kitchen ideas
First off is a classic black backsplash kitchen tile idea. This black square mosaic tile is a highly versatile and adaptable choice for kitchen designs. Whether you have a minimalist kitchen design like the one shown above, or you go all out with color and flair, this black tile kitchen backsplash works well with everything.
2. Black Long Subway Tile Backsplash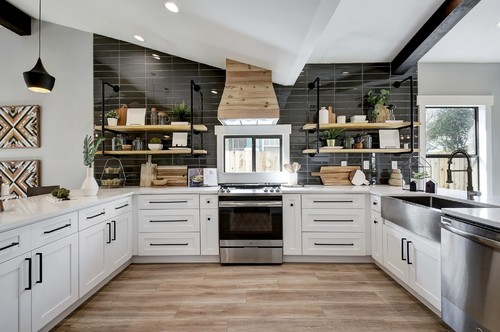 Photo by Y Interiors – More kitchen ideas
Subway tiles have been one of the most popular kitchen backsplash ideas in recent years due to their sleek lines and understated quality. If you're seeking to add a subway tile with a hint of elegance, then a black tile backsplash kitchen with a glossy black subway tile is certainly the way to go.
3. Black Mini Mosaic Backsplash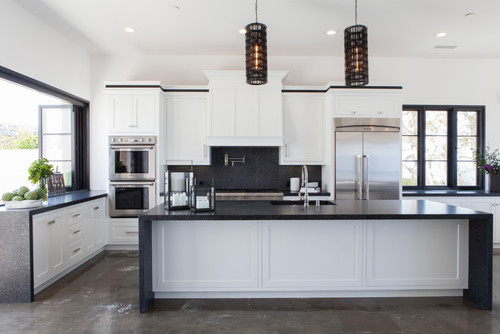 Photo by Jodi Fleming Design – Browse kitchen ideas
Black mini mosaic adds an element of understated detail. A unique kitchen black backsplash choice, this black backsplash idea works well with crisp white cabinets. Check out this contemporary black backsplash kitchen complete with black waterfall countertops.
4. Black Penny Tile Backsplash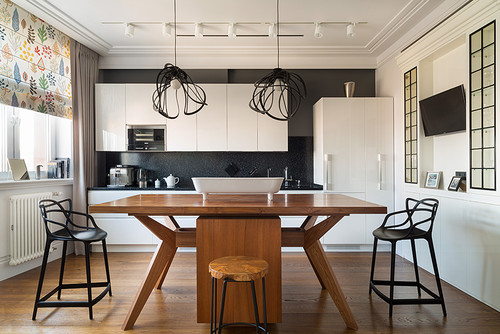 Photo by Анна Анельгольм & Светлана Матвеева – Search kitchen pictures
Black penny tiles are one of our favorite backsplash options. This kitchen with black backsplash showcases the beauty of penny tiles and fits in seamlessly with modern organic and contemporary industrial designs. Browse our selection of marble black penny tiles.
5. Black Industrial Subway Tile Backsplash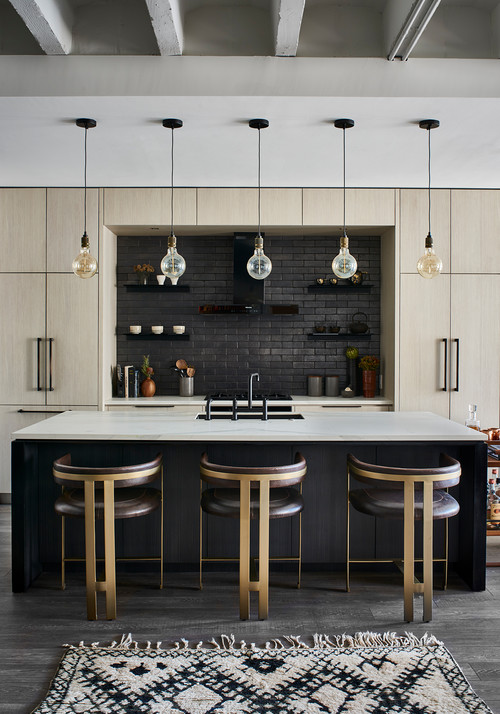 Photo by Marc Mauldin Photography, Inc. – Discover kitchen design inspiration
These rustic ceramic subway tiles create the illusion of a stylish brick wall. Perfect for loft-style industrial interiors, these black brick subway tiles look incredible when paired with white wood cabinets and brass finishings.
6. Black Glossy Subway Tile Backsplash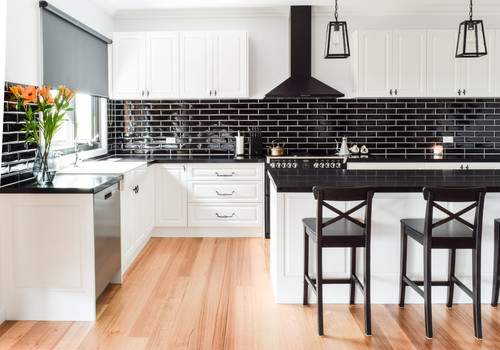 Photo by Kitchens by Matric – Discover kitchen design inspiration
This glossy black subway tile is one of the most classic black kitchen backsplash ideas. It creates an element of incredible shine that pairs well with bright white cabinets. The result is a light and airy kitchen that is high contrast.
7. Black and White Kitchen Backsplash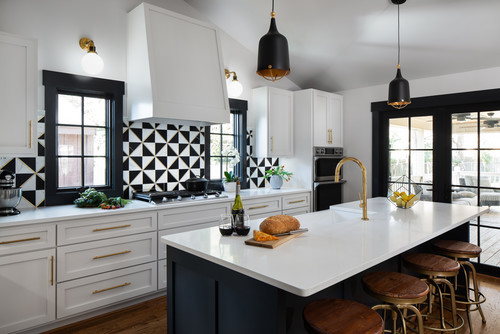 Photo by Tommy Daspit Photographer – Browse kitchen photos
This black and white backsplash kitchen embodies the allure of Roaring 20s art deco design with a contemporary update. Note how the black and white tile kitchen backsplash matches the black window molding and white cabinets of the kitchen pictured above, creating a harmonious and highly stylized design.
8. Black Patterned Ceramic Backsplash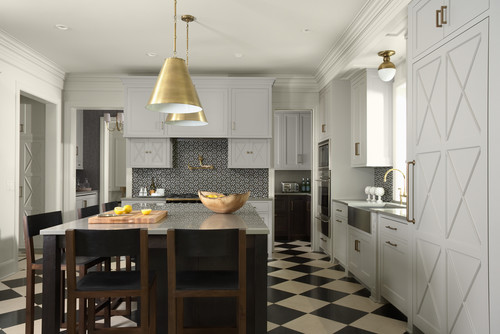 Photo by Rehkamp Larson Architects, Inc. – More kitchen ideas
Embracing the look of a patterned backsplash tile is a great way of adding your own style to the design of your kitchen. Whether you go for a traditional or modern pattern, it will certainly add an artistic component to your kitchen. We love the look of this black patterned backsplash tile with the checkerboard floor in the above image of a black and white backsplash kitchen.
9. Black Herringbone Kitchen Backsplash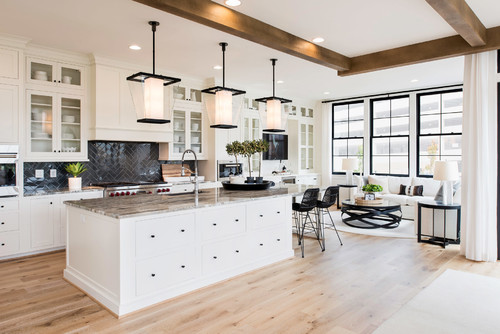 Photo by P [Four] – Browse kitchen ideas
Black herringbone backsplash designs are another black kitchen backsplash idea that toes the line between traditional and contemporary. A highly versatile design, it works well in almost any space. Black ceramic wall tiles are available in multiple sizes and glossy or matte finishes.
10. Black Square Ceramic Backsplash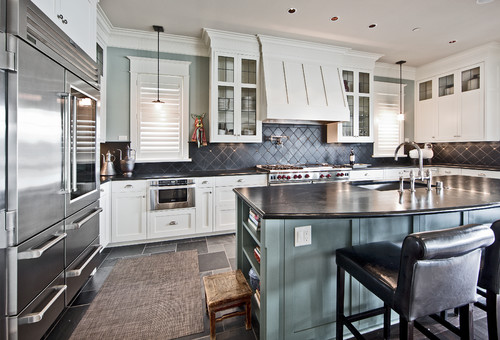 Photo by Jefferson Fine Home Builders – Search kitchen pictures
Rustic black square tiles are an understated yet stylish design option. For a unique twist, consider installing them in a diamond pattern like the one pictured above. We offer a wide range of ceramic square black tiles in a variety of shades, which suit dark floor kitchens.
11. Black Long Stacked Subway Tile Backsplash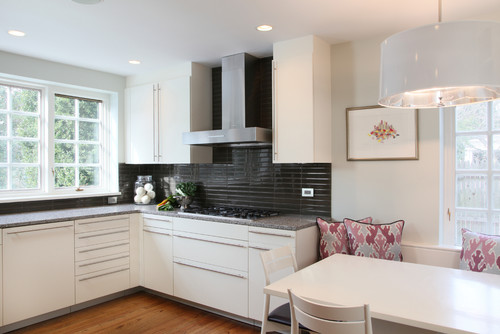 Photo by Krieger + Associates Architects, Inc. – Look for kitchen pictures
Stacking elongated subway tiles creates the illusion of extending the space and making the ceiling seem higher. This symmetrical black kitchen backsplash tile parallels the sleek lines of the white kitchen cabinets, resulting in an utterly modern look.
12. Black Marble Tile Kitchen Backsplash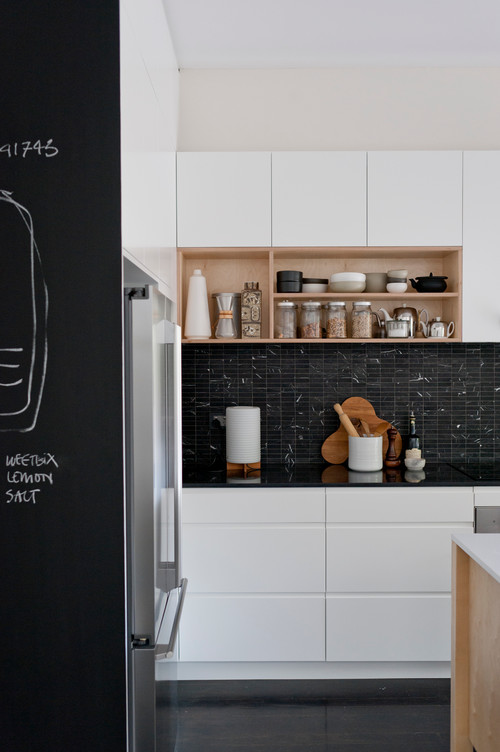 Photo by ANNA CARIN Design – Search kitchen pictures
For a spin on classic ceramic subway tiles, consider going for an upgrade with a chic marble black subway tile backsplash. Black marble with white veining is a bold choice that pairs beautifully with white cabinets and possibly white quartz countertop ideas. Or, for an alternative material, consider black porcelain wall tiles.
14. Black Hexagon Kitchen Backsplash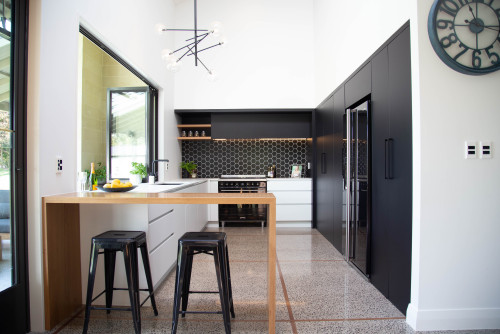 Photo by Niche Design Co | Chelsey Mathieson – Discover kitchen design inspiration
Last but not least is this geometric kitchen backsplash black tile idea. Hexagon backsplash tiles offer a touch of creativity to kitchen designs. Browse our selection of different hexagon tile options in a variety of different sizes and finishes, such as glossy and matte.
Shop Black Backsplash Tiles Online
Favored among homeowners and interior designers alike, Country Floors offers a variety of high-quality and stylish tiles made of marble, ceramic, and more. Shop our range of black tiles online today.
If you're looking for another unique color story to pair with white cabinets, consider our post on Yellow Kitchen Backsplash Ideas with White Cabinets.