There's something about black bathroom tiles that makes them absolutely timeless and elegant. If you love the dark aesthetic or want to transform your bathroom into a sleek, contemporary space, then why not consider a black tile bathroom design? With so many options to choose from –– such as black subway tiles, black marble tiles, black hexagon tiles, and more –– the options are endless.
There's also a practical reason for choosing black bathroom tiles: they will look clean and pristine for years to come. They're highly versatile, too. You can install black tiles as a black bathroom vanity backsplash, on a bathroom floor, or in a shower. For a streamlined look, you could even install them everywhere for an incredibly bold and striking design.
Here is our list of 15 stylish black tile bathroom ideas to transform your bathroom into something new:
1. Black Subway Tile Bathroom
We start off our list with a monochromatic pitch black subway tile bathroom, complete with a black tile shower. The tile used in this bathroom is our black glossy ceramic subway tile, which has a moonlit sheen. The result is a cohesive, harmonious look that flows together beautifully. If black is your favorite color, then this black bathroom design is certainly for you.
2. Black Tile Bathroom Backsplash
If you prefer a touch of black to add a dark and sophisticated edge to a neutral design, look no further than this stunning parquet black honed marble mosaic. The stark black-and-white contrast and striking jagged lines of this black bathroom tile pay homage to early-twentieth-century art deco interior styles.
3. Black Marble Mosaic Tile
Square black marble mosaics are a classic feature among bathroom designs for good reason. They recall the understated simplicity of mid-century designs and French interiors.
4. Black Hexagon Tile Bathroom
Black hexagon tile bathrooms are one of the most popular black bathroom tile ideas of this year. Sleek and refined, they look utterly modern and sophisticated. Take this matte black hexagon bathroom tile accent wall shown on the right, for example. It serves as a bold contrast to the white subway tile behind the sink. The result is an artful black and white bathroom tile idea.
5. Black Marble Tile Backsplash
A black marble tile bathroom backsplash is a great way of instantly upgrading your space and adding a chic and refined look. This honed marble black bathroom subway tile looks incredible when paired with the brass accents of the sinks and lights. Or install it on the floor for a black bathroom floor tile design that's the definition of stylish.
6. Black Chevron Bathroom Tile
One of the best ways to add creative detail to a bathroom design is to go for an accent wall with a bold tile. This black chevron bathroom tile is striking on its own, but when contrasted against the opposite white wall and floors, it's all the more daring. Moreover, it has a black tile and black grout design that brings the jet-black tone of the tile.
7. Black and White Tile
This patterned ceramic black and white bathroom tile offers black detailing without overwhelming the space. Inspired by traditional Japanese tiles, it has a streamlined, simple look that's ideal for minimalist interiors. One of the more unique black and white bathroom tile ideas, it has a one-of-a-kind look.
8. Elegant Black Tile Bathroom
For a luxury black tile bathroom, black marble tile is the best choice available. Its natural luminous and delicate veining cannot be replicated authentically by machines. To imbue your bathroom with an elegant atmosphere, consider this obsidian black marble tile with a natural leather finish.
9. Black Molding Accent
Although it may technically not be a tile, black moldings are a creative way of adding a delicate black accent in an otherwise bright space. In the image above, this black marble molding ties the room together while adding a refined finishing touch to the white marble bathroom.
10. Black and White Bathroom Floor Tile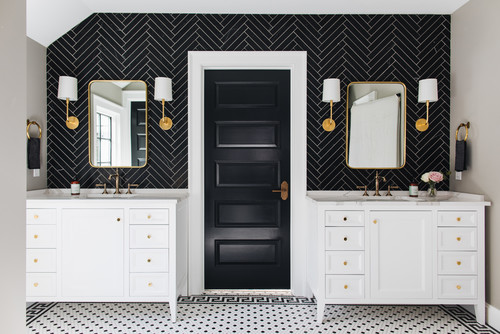 Photo by Kenowa Builders – Look for bathroom design inspiration
A black and white bathroom floor tile has a distinct vintage look that has made a comeback in recent years. A basket weave black and white bathroom tile recalls the look of traditional French bathrooms that are so charming and chic.
11. Black Mosaic Tile Bathroom Floor
Black tile bathroom floors look striking when paired with anything –– you can go minimalist and pair it with a white wall or embrace something colorful. Either way, black tile bathroom floors have a certain distinctive elegance that makes them look incredibly stylish. This marble black bathroom floor tile has a puzzle-like shape that's inventive.
12. Glossy Black Subway Tile Backsplash
The slightly weathered texture of this black subway thin brick tile creates the ideal industrial look that suits contemporary interiors such as lofts. Its glossy sheen creates a smooth look that's also easy to clean. Install this as a black shower tile or black bathroom backsplash tile, whichever you prefer.
13. Black Mosaic Tile Shower
Another popular black and white bathroom tile, this black and white basket weave marble mosaic has a vintage-style look that is timeless. Install it in the shower as shown above, or apply it to the floor for a black and white bathroom floor tiles design. Its classic tones go with a range of interior design styles.
14. Black Porcelain Bathroom Tile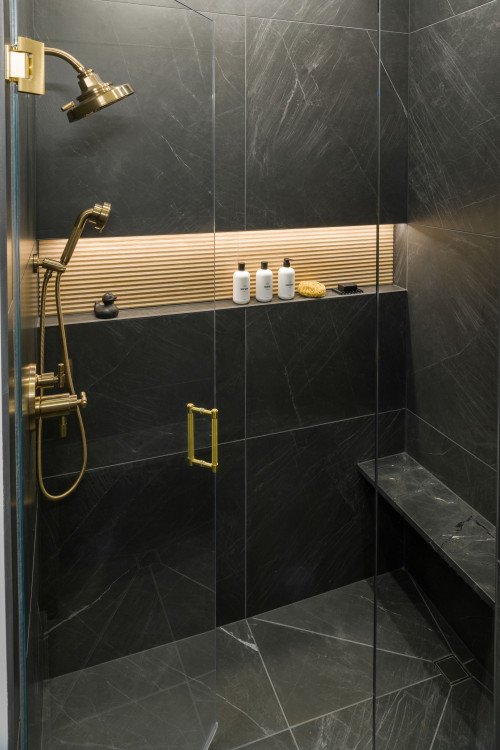 Photo by Metro Design Build Inc. – More bathroom photos
Porcelain tiles are one of the top choices when it comes to bathroom tiles due to their durability and low maintenance. This large black honed porcelain tile is ideal for shower applications due to its honed finish, which is less slippery.
15. Black Penny Bathroom Tile
Last but not least, consider going for a black penny tile bathroom design. Chic and effortless, this design is a classic that will stay in style for a long time. Note how the black marble penny tile pictured above is paired with black grout for the ultimate dark aesthetic look.
Shop Black Bathroom Tiles Online
Shop Country Floor's entire collection of black bathroom tiles made from ceramic, marble, porcelain, and more online today.
For more black tile design ideas, check out our blog post on 38+ Black Tile Ideas To Add Elegance To Your Space.