Classic and timeless, Spanish floor tiles are an exquisite design choice that will be stylish forever. Having adorned the floors of Spanish haciendas, basilicas, and walkways for centuries, Spanish tiles are making a comeback in the United States. Spanish revival styles have been re-adapted with contemporary tastes, resulting in tiles that balance the traditional and modern.
One of the most classic types of traditional Spanish floor tiles is a material that is common throughout the Mediterranean: terracotta. This gorgeous earthy substance is entirely natural and has been one of the top construction materials used around the world for thousands of years. Its reddish-brown tone instantly imbues rooms or exteriors with a natural atmosphere that recalls the rich warmth of the Mediterranean.
Read on to discover our best modern Spanish floor tile ideas:
1. Light Natural Spanish Terracotta Floor
#1 on our list is a staple of Spanish tile flooring. This 6×6 light terracotta tile is a type of handpressed Spanish tile flooring that has been popular for centuries in the Mediterranean. Paired with off-white walls and wooden accents, it makes for the ideal bohomeian look.
2. Hexagon Spanish Tile Floor
The honeycomb look of hexagon Spanish style floor tiles adds a stylish yet understated look to any design. This hexagon terracotta tile has been applied as an outdoor Spanish floor tile in a style that recalls the walkways of haciendas, but it would look just as incredible inside as a Spanish tile kitchen floor.
3. Spanish Rectangular Terracotta Tile
This rectangle Spanish floor tile has a classic, homely look that pairs well with natural, rustic interiors. Whether you prefer the Spanish revival look or desire something more modern, this Spanish terracotta floor tile is highly versatile.
4. Modern Spanish Floor Tile
If you love the look of natural Spanish terracotta tile but are leaning towards something more modern, why not try a contemporary take on a classic design? This abstract matte terracotta tile has the same earthy tones that are authentic to Spanish tiles yet with a more modern swirled design.
5. Spanish Tile Staircase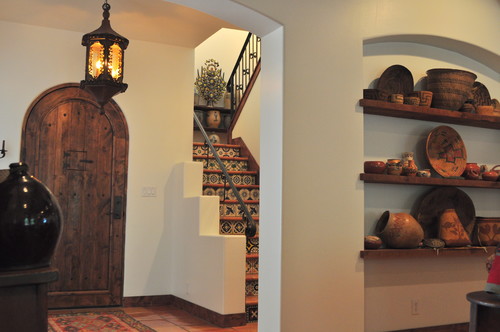 Photo by Dibello Architects, PLLC – Browse entryway photos
This Spanish tile staircase is a great example of incorporating a unique detail into your home interior design. These tiles from our Miradouro Classic Ceramic Collection take inspiration from traditional Spanish and Portuguese floor tile designs and look incredible as a staircase accent or Spanish tile kitchen floor.
Kaleidescope Multi Color Pattern 122m Glazed Ceramic Tile
Camelias Glazed Ceramic Tile
Kaleidoscope Glazed Ceramic Tile
6. 6×6 Spanish Tile Floor
For something more simple, consider this sleek dark hand-pressed terracotta tile. Its elegant, natural finish adds a refined touch to the look of classic Spanish terracotta floor tiles. It works as an outdoor Spanish floor tile or indoors in kitchens, bathrooms, living rooms, hallways and more.
7. Picket Spanish Tile Floor
The rustic look of Spanish terracotta picket tiles is absolutely stunning. Pair this Spanish tile floor with white-washed walls and wicker furniture to embrace the full look of a Mediterranean interior.
8. Vintage Spanish Tile Floor
Part of our Reclaimed Terracotta Collection, this antique Spanish floor tile is historically authentic. These red terracotta floor tiles are made from recovered fragments of antique tiles from the ruins of old farmhouses and churches. Therefore, they have a unique, antique look that's ideal for anyone who values history.
9. Spanish Ceramic Tile Floor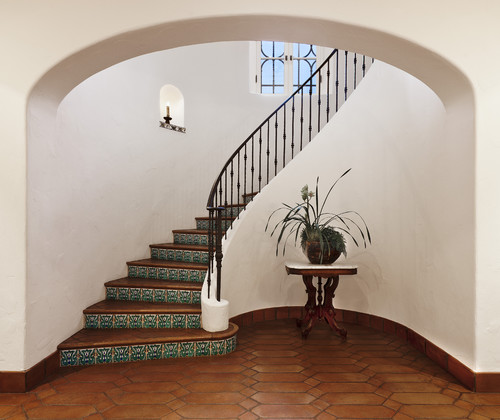 Photo by DD Ford Construction – Look for staircase design inspiration
If you're seeking more color for your space, then why not consider going with a gorgeous Spanish ceramic tile? These tiles from the Antiqued Mallorca Collection are inspired by the traditional textiles of "Lenguas Mallorquinas" fabrics woven by Spanish artisans.
Indigo Wash India Glossy Ceramic Tile
Vintage Linen India Glossy Ceramic Tile
Indigo Wash Tulips Glossy Ceramic Tile
10. Patio Spanish Tile Floor
Another tile from the Reclaimed Terracotta Collection, this rectangle terracotta Spanish style floor tiles are ideal for Spanish patio tile installations and bathrooms with a Spanish tile floor. Its antique, traditional look is adaptable both indoors and outdoors.
11. Large Spanish Floor Tile
This red terracotta Spanish floor tile is the modern version of our reclaimed Spanish tile shown above. With its smoother finish and bevelled edge, it creates a harmonious atmosphere in any household. Moreover, it will hold up for years to come against daily wear and tear.
12. Fan Shape Spanish Tile Floor
This fan-shaped terracotta floor tile recalls the gorgeous traditional Spanish tile floors in churches and marketplaces. Chic and charming, it's a perfect fit for Spanish style tile flooring in kitchens, bathrooms, or the outdoors.
13. Parquet Spanish Tile Flooring
This reclaimed Spanish parquet flooring tile is perfect for southwestern homes or Spanish revival interiors. Its rustic, authentic look creates a welcoming atmosphere in spaces. Note how its natural red coloring pair well with the earth tones in the interior pictured above.
14. Dark Terracotta Spanish Tile Flooring
If you're seeking Spanish floor tiles with a more muted tone, then this handpressed dark terracotta Spanish floor tile is a great fit. Its dark earthy tones recalls the arid climate of southern Spain and suits interiors in warm climates. Note how this Spanish floor tile works beautifully in the pictured living room to bring a natural feel to the interior space.
15. Kitchen Spanish Tile Floor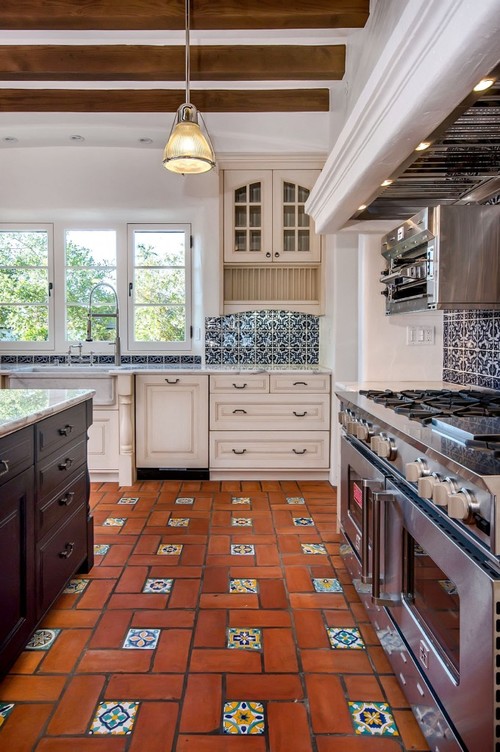 Photo by TDM Tiling – Browse kitchen photos
Pair your terracotta Spanish tile flooring with patterned Spanish tiles to add a unique artistic flair to a classic design. Adding a touch of turquoise, blue, or yellow is a great way of making a space feel more lively. This Spanish tile floor kitchen is transformed into a Mediterranean getaway with its traditional Spanish floor design.
Shop Spanish Floor Tiles Online
Shop Spanish floor tiles online at Country Floors today. Country Floors offer a range of alluring, high-quality terracotta, ceramic, and natural stone tiles today.
Some of our popular Spanish tile collections include:
For more Spanish tile design ideas, check out our other blog posts below: