Choosing the right kitchen backsplash for your dark cabinets and light countertops can be tricky. Whether you want to embrace something complimentary or emphasize the contrast, there are endless backsplash tile options available.
We've chosen the best backsplash ideas for dark cabinets and light countertops for a multitude of kitchen styles and color combinations. Read on to discover inspirational design ideas:
1. White Glossy Subway Tile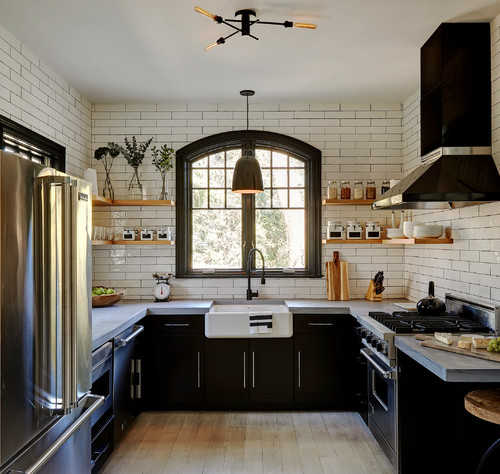 Photo by RoomSecret – Discover kitchen design ideas
We start off our list with a classic backsplash for dark cabinets. This glossy white ceramic subway tile suits black kitchen cabinets as well as other dark-hued tones. Its simplicity makes it highly versatile and adaptable, and its glossy finish makes rooms seem more light and airy.
2. Patterned Ceramic Tile with Black Wood Cabinets
This black and wood kitchen is elevated with a traditional patterned ceramic tile backsplash. Choosing a ceramic tile with a pattern offers an interesting design element that adds intricate detail to the contrasting look of black cabinets and white countertops. The result is a kitchen with rustic charm.
3. Geometric Navy and White Backsplash
If you're looking for a way of making your dark cabinets and light countertop feel more harmonious, pick a backsplash tile that includes both of those colors to draw the room together. This white and navy basket-weave marble mosaic tile compliments the navy cabinets and brass detailings nicely.
4. Fluted Green Marble Mosaic Tile
One of our most organic feeling backsplash ideas for dark cabinets and light countertops, this green cabinet and fluted green marble mosaic tile is incredibly alluring. It creates a natural atmosphere that works perfectly with organic modern and rustic kitchens.
5. White Arabesque Tile Backsplash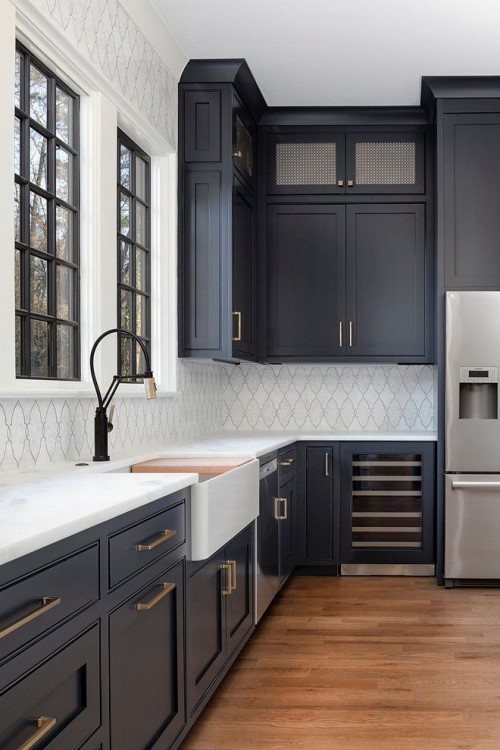 Photo by Everingham Design – Look for kitchen pictures
Arabesque tile designs offer a fluid and dynamic dimension to kitchen spaces. Modern black kitchen cabinets look beautiful when offset with a bright white backsplash like these marble arabesque waterjet tiles. They add a touch of elegance to kitchens with black cabinets.
6. Black and White Tile Backsplash
A perfect choice for backsplash ideas for dark cabinets and light countertops, this black and white basketweave mosaic tile offers a highly contrasted look. Additionally, it provides the added bonus of adding dimension to a space, which makes it seem more spacious.
7. Mid-Century White Tile Backsplash
This mid-century-inspired white marble tile has a stunning asymmetrical design that is the definition of chic. It creates an optical illusion that elongates the space, making it ideal for small kitchen black kitchen cabinets. This subtle luminescence of white marble brights up the space, too.
8. Thin Marble Subway Tile Backsplash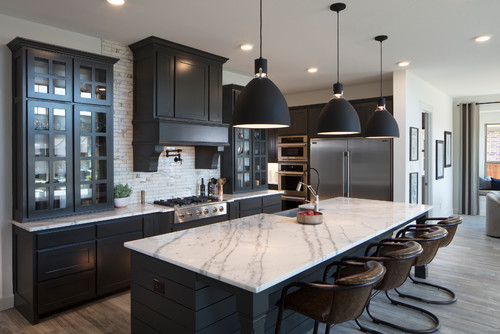 Photo by Normandy Homes – Search kitchen design ideas
When it comes to modern black kitchen designs, marble subway tiles are a popular choice. The delicate veining of the marble adds a unique spin to classic ceramic subway tiles. Note how the backsplash tile in the picture above matches the black cabinets with white countertops.
9. Black Backsplash Kitchen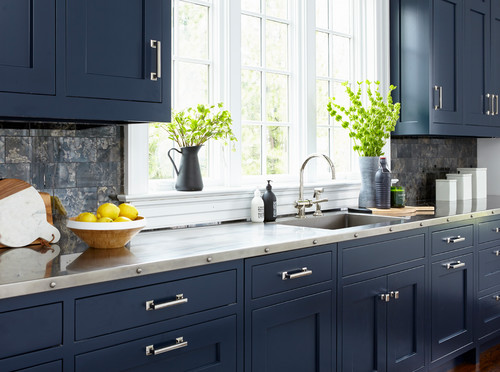 Photo by DEANE Inc | Distinctive Design & Cabinetry – Browse kitchen ideas
If you're seeking an alternative to classic white backsplash tiles, then fully embrace the look of a modern dark kitchen with this black backsplash kitchen idea. Black zellige tile backsplashes are one of our top choices, but black marble subway tiles or black ceramic subway tiles look just as alluring.
10. Vintage Ceramic Tile Backsplash
If you're seeking black kitchen ideas that soften the overall look of your space, then consider a patterned vintage ceramic tile. The charming, delicate design of this ceramic tile offsets the bold lines of the black cabinets and white countertops.
11. Industrial Black Subway Tile Backsplash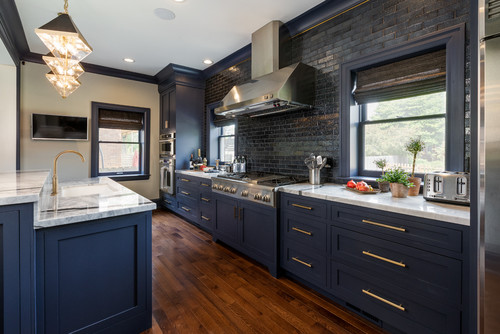 Photo by E.W. Kitchens – More kitchen photos
Another black backsplash tile option, these black subway tiles have an industrial edge. Its glossy, artisanal look elevates the kitchen and works well with the navy cabinets and brass handles. The black kitchen tile makes the space feel bolder and sophisticated.
12. Checkerboard Backsplash Tile
Another one of our alternating tile backsplash options, this kitchen backsplash utilizes alternating white and blue encaustic tiles for a chic country home design. The two colors create a pleasing backdrop for the cabinets in a similar blue tone.
13. Large Black Square Backsplash Tile
This kitchen with black cabinets has a minimalist design with a streamlined, sleek look. The black kitchen walls are made from large-format black square marble tile. They have a brushed finish, which adds a textured element to traditional black backsplash tiles.
14. Abstract Ceramic Mosaic Tile
This abstract white and blue ceramic tile has a quirky, contemporary style that offers a refreshing take on most traditional backsplash designs. The blue tiles match the dark navy cabinets and suit the rustic look of this vintage kitchen design.
15. Sleek Stacked White Subway Tiles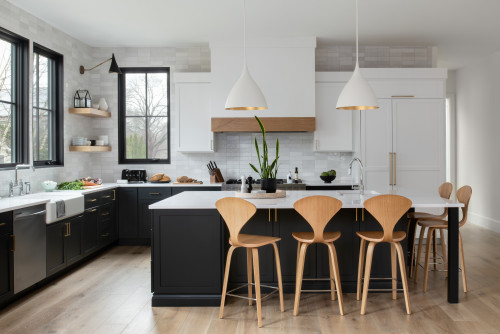 Photo by c|s DESIGN STUDIO LLC – Look for kitchen pictures
These understated modern black kitchen cabinets work beautifully with the stacked white subway tile backsplash. The stacked style of the backsplash works well with the streamlined, sleek look of the black cabinets and white countertops. There is a reason why white marble tiles are considered some of the best wall tiles.
16. Gray Backsplash Tile
This dark green kitchen is certainly a standout. The dark forest green hues suit the gray penny backsplash tile, which matches the gray marble tile floors of this dark floor kitchen. The overall look is pleasing to the eye and creates a harmonious atmosphere in the kitchen.
17. Modern Black and White Ceramic Tile
This black and white ceramic tile is one of our most unique standout designs. The swirling pattern of the backsplash tile creates the perfect accent wall for kitchens. For the opposite look, consider black kitchen backsplash ideas with white cabinets.
18. Gray Marble Subway Tile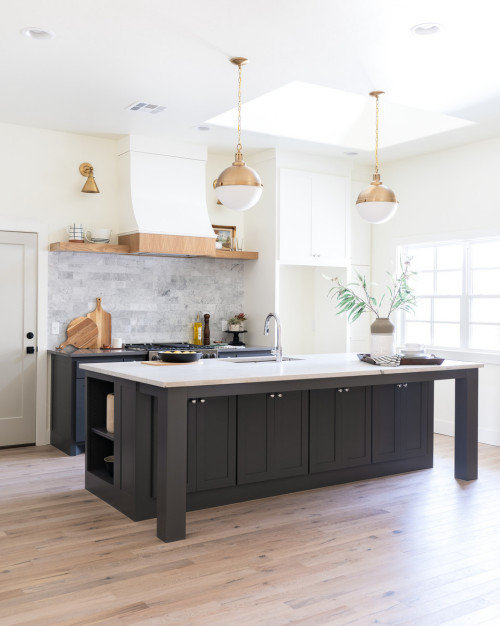 Photo by Kelsey Leigh Design Co. – Look for kitchen pictures
This black and gray kitchen design ties the room together by combining the black cabinets, white countertop, and gray backsplash tile. Gray backsplash tiles are an ideal way to soften the contrast between dark cabinets and light countertops.
Shop Backsplash Tiles Online
Browse Country Floors' entire collection of high-quality, chic backsplash tiles made from natural stone, ceramic, zellige, and more.