You cannot go wrong with black. Whether it's a classic pair of black shoes, or a tried and true "little black dress", black is a shade that's always in style. We think it's high time to talk about the classic appeal of black in interior spaces – as both a primary and complementary shade: Black Hexagon Tiles.
Black hexagon tiles are one of the best ways to incorporate the color into a bathroom. Hexagon tiles are great because they are a step outside of square and rectangle-shaped options which can look a bit run of the mill. Consider using black hexagon floor tile, black hexagon shower tile, or combining the two to get a result that looks effortlessly sophisticated.
Here are 20 ways you can use black marble tiles and black hexagon tiles in your bathroom makeover and imagine your space revamped with one (or more) of these design ideas.
20+ Marble Bathroom Floor Ideas
We have compiled these stunning bathroom designs that will blow you away as they showcase how modern, chic, and timeless black marble tile can be. Black hexagon tiles add a different spin to interior projects so we think it's worth a look. Once you see how beautiful these bathrooms are, you will want to make sure you include black hexagon tiles in your bathroom remodel.
We're certain these 20 beautiful bathroom floor ideas will get you in the mood to infuse black into your design with black hexagon tiles.
Solid Black Hexagon Floor Tiles
Solid black hexagon floor tiles feature a dynamic pairing of black hexagon tile with black grout. In terms of black floor tile ideas, solid black is the epitome of the modern mood motif. Use these design ideas if you desire a rich black-on-black result.
A contemporary bathroom with luxurious glossy black hexagon tiles lining the floor.
A frameless bathroom shower with solid black hexagon tile can highlight a crisp white tiled shower.
We can't believe the beauty of these black hexagon floor tiles with white grout. The full-wall extension of the tile and grouting is a chef's kiss.
Black hexagon floor tiles are a fantastic choice for this farmhouse-style master bathroom. The oak bathroom vanity is highlighted thanks to the richness of the tiles.
A black hexagon mosaic tile was chosen for this modern bathroom along with a panel-framed shower and marble sink – super chic.
This design takes black to the max! Thanks to the ample natural lighting the black walls and flooring look exquisite instead of overpowering.
Pops of gray and white subway tile are paired with an intricate black mosaic hexagon floor tile in this bright traditional washroom.
Two different sizes of black hexagon tiles are used to complete this look – perfectly acting as a base for the art deco-style accent wall.
This master bath has a booth-style toilet that is outlined in the same rich black ceramic hexagon tiles as the adjoining main wash area.
This eclectic bathroom has a rustic touch using dark wood tile on the main floor. The clever addition of a black hexagon mosaic shower floor makes the look modern.
Black and White Hexagon Floor Tiles
We cannot get through an article on black hexagon tile without appealing to designers who love the combination of black and white tile. Black and white bathroom tile together is both classic and modern so you can use them to create a vibe that will be satisfying for years to come. Below we have several bathrooms that show the versatility and fun of using black and white hexagon tiles.
This combination of elongated black and white layered hexagon tiles put a fun spin on a small transitional bathroom.
This vivid black and white bathroom features an art deco motif with color-blocked solid black and white hexagon floor tiles. You can't help but notice the floors immediately.
At first, this bathroom looks very plain until you see the floors and realize the pizzazz is in the details. The split black and white hexagon floor tiles are so eye-catching!
The main floor of this bathroom has black and white squared tile. However, the alcove shower has a simple and chic black and white hexagon mosaic tile to distinguish the shower uniquely.
This traditional bathroom has a lovely blend of bright blue walls and a delectable daisy-patterned marble floor tile in the traditional black-and-white combination.
Marble floor tiles in black and white will always dazzle. This dark farmhouse bathroom with a black vanity looks immaculate with this double-detailed hexagon mosaic.
Matte Black Hexagon Tile Floors
Bathroom floors with matte black hexagon tiles are just as stylish as the other options on this list. Using matte tile allows for a look that adds sophistication to a room. You can also use matte black hexagon tiles to infuse texture or a bit of grit that looks organically rustic.
This Bathroom has a walnut vanity and large-format black matte hexagon tiles.
The smoky matte floor tile in this bright white transitional bathroom adds warmth that keeps the monochrome theme from appearing harsh. Consider matte floor tiles if an all-white bathroom is what you desire.
This transitional bathroom merges style using a simple matte black hexagon floor tile with thin-spaced white grout for a subtle highlight.
Reasons to Consider Hexagon Tile in the Bathroom
You may not have considered black tiles for your bathroom before now, but hear us out – there are many reasons to go with these stunning tiles. If you are driven by aesthetics, or, want a look that goes against the grain, hexagon tiles in your bathroom can be the answer. Still not sold? Then read on to see why black hexagon tiles are the "it" tile this year for bathrooms.
Black Adds Something Different
We know that black is a color that will bring out the luster of your fixtures, create a mood with your lighting, and enrich the textures of your walls and decor. Black hexagon tiles make a unique addition to spaces that are usually understyled, like bathrooms. Shower walls and bathroom floors are routinely tiled with standard square and rectangle shapes, but hexagon-shaped tiles serve as an alternative that's both clean and visually impressive. If you love the look of marble but have a more modest budget, you can also use black ceramic tiles, and create one of these stunning black tile bathroom ideas.
Black Tiles Are Bold
Let's face it, black is a bold and daring shade no matter where it is used. From clothing to footwear, black is known to be striking and strong. In the home black tiles can invoke feelings of calm and crispness. Black is a color that will never look dull and will help the complementary colors in your bathroom's design to stand out. No matter what color you use for your walls, a black hexagon floor tile will call attention to the shade in a breathtaking way.
Black Tiles Are Modern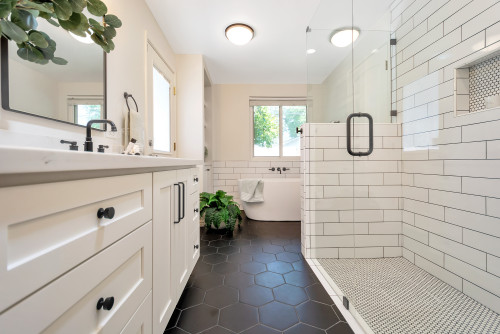 Black is becoming a go-to shade quickly replacing gray as the color that modern homeowners use to create visual contrast. You may or may not be a fan of the color gray, but don't let your affinity for the shade keep you from considering using black tiles. Try getting creative and combining the two colors, for example, a shower lined in black hexagon tiles with grey grout. The combination will add depth to your bathroom and the grey grout will provide a subtle break in the tile that highlights the design.
Black Is A Good Match For Other Colors
Pink tile is trending this year thanks to the success of this summer's The Barbie Movie.
If you love the idea of black tiles but want something a bit more cheery, we think you will be dazzled by our pink tile bathroom ideas which can add a whimsical touch to your space.
Here, in Country Floors, we enjoy sharing bold, joyful, or classic collections. Country Floors offers you various materials, colors, shapes, and sizes to create your unique style in your homes with high-quality products. Contact us to ask more questions about products and don't forget to follow our blog page, Instagram account, and Pinterest account to inspire yourself.